Our Third Location in Downtown Riverside
When we first started Arcade, we always dreamed of opening up in Downtown Riverside one day. And look, now we're here! This location is where it all comes together. Our passion for coffee, food, and of course, pastries!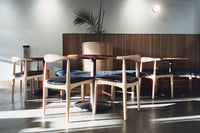 Our Elevated Food Menu
We say Downtown is our most food forward location. We work with a ton of local producers & farms to put together an elevated food menu. Like each of our locations, our menu change seasonally, here, highlight all that California produce has to offer!
Our Coffee
Obviously, we have coffee here too! <3 We are dedicated to making the best of the best coffee at each location, and you can find our Arcade coffee program on Main St in the heart of Downtown!
Cocktails
Not only do we have a killer food and coffee program, but we have a killer cocktail program as well that was developed by our friend who has a ton of experience in the industry! This menu is meant to be shared with coffee & food. Bloody Mary's, Espresso Martinis, Mimosas, & more.