Our Newest Addition to the Arcade Family
In May 2023, the beloved Riverside restaurant, Backstreet, found its new home within the Arcade family! Arcade's purpose extends beyond coffee, but to creating shared moments together. Backstreet has been doing that for 56 years, and we are proud to carry the torch.
The History
The Backstreet holds a rich history within the Riverside community. Originally the Nelson Street Market, established in 1952, it was transformed into a restaurant by the McCluskeys, who aimed to expand dining options in the city. With an incredibly beautiful courtyard created from the house's driveway, the McCluskeys poured their hearts into remodeling the space. The Backstreet gained fame for its renowned banana cream pie and hosted a variety of notable guests. The Backstreet is a beloved community space, one that belongs to all who cherish it!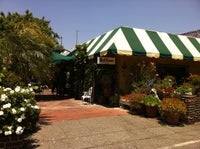 Sandwiches
The sandwiches are what makes Backstreet, Backstreet! Simple sandwiches made from bread that are baked locally and meat that is made on site. House made pies, wine, beer, & more go perfectly alongside these sandwiches.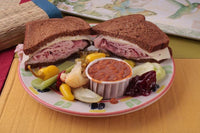 Patio
If you've heard of Backstreet, you've heard of where you eat your sandwiches and pie. The patio! Shaded by big trees and surrounded by quirky decorations that have been accumulated over the past 56 years. We think there is really nothing like the Backstreet Patio.
3735 Nelson St, Riverside, CA 92506
(951) 683-6650
Mon - Sun — 11a–2p